Meditation Group Class | June 23, 2018
Meditation & Your Sacred Space
Saturday, June 23, 8:30-10am
$40 early bird pricing ($50 after June 12)
Do you have a favorite meditation spot? Turn your practice into a daily ritual. Join me as we explore how dedicating and designing your sacred space can enhance your meditation practice. Location: 4265 N Camino Gacela, Tucson, Arizona


Pilates Master Class
Saturdays at 1:00 pm
Bring your practice to a new level in this unique Instructor level master class, delivered in a supportive, small group setting. This Advanced Wunda Chair class is ideal for Pilates Instructors, Pilates Teachers in training and truly Advanced Pilates students.
Take time for yourself and your personal practice.
Please call the studio to reserve a spot. 520- 299-6541.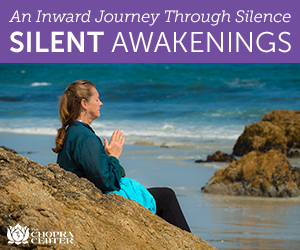 The Chopra Center for Wellbeing.
Mention my name, Geneviève Nedder, when you register for all Chopra Center events and programs  for the best possible rates and up to 20% off most of their programs. Contact  program consultant Gabrielle Forleo at 760-494-1696 or by email when you register.
Past Events & Seminars offered at Body Fundamentals Tucson
Meditation Group Class | April 21, 2018
Anti-Anxiety Meditation
Saturday, April 21, 8:30-10am
$40 early bird pricing ($45 after April 10)
Perfect Health Retreat - Sept 29 - Oct 1, 2017
3-day weekend retreat offered in Tucson, AZ.
The Ayurvedic Lifestyle program teaches you to bring balance and healing into your life. As your Chopra Center Certified Perfect Health Instructor and Ayurvedic consultant, I'll guide you through a powerful regimen of practices designed to balance the body/ mind, enhance nutrition, reduce emotional turbulence, and re-awaken the senses.
Registration in the September 2017 retreat includes:
daily meditation and yoga, heart-healthy lunches Saturday and Sunday, Ayurvedic nutrition course, and quiet time for reflection.