Proper Digestion is Essential for Good health| December 15, 2018
 Holistic Nutrition Class
             Saturday, December 15, 9-10:30am
                                    Improve your digestion and overall health by learning the 3 Pillars of Holistic Nutrition:  Digestion, Food and Mindfulness.  In this interactive class you'll more about what to order when eating out, how to make better choices while grocery shopping and gain clarity about sugar, sweeteners, fat and oils.
Class includes a 1 hour Nutrition lecture, superfood snacks and teas to enjoy during the presentation and take home handouts.This class also includes a mindful movement segment and short guided meditation. Call : 520-299-6541 or email change@bodyfundamentals.com to register.
Healthy SuperFood snacks included!
Meditation Group Class | April 13, 2019
Meditation Class
Saturday, April 13, 9:00-10:30am
$40 early bird pricing ($50 after April 2nd)
                                              Class Topic: TBA- Feb 2019
Meditation Group Class | November 10, 2018
Meditation & Brain Health
Saturday, November 10th, 8:30-10am
$40 early bird pricing ($50 after October 27)
Learn how meditation changes the Brain! In this 90-minute course, you'll gain insight on how meditation improves brain health, actually restructures the brain, and what it does for memory and continued learning as we age.

Pilates Equipment  Master Class
Saturdays at 1:00 pm
Bring your practice to a new level in this unique Instructor level master class, delivered in an encouraging, private group setting. This Advanced Equipment class is ideal for Pilates Instructors, Pilates Teachers in training and truly Advanced Pilates students.
Take time for yourself and your personal practice.
Please call the studio to reserve a spot. 520- 299-6541.
Past Events & Seminars offered at Body Fundamentals Tucson
Meditation Group Class | June 23, 2018
Meditation & Your Sacred Space
Saturday, June 23, 8:30-10am
$40 early bird pricing ($50 after June 12)
Do you have a favorite meditation spot? Turn your practice into a daily ritual. Join me as we explore how dedicating and designing your sacred space can enhance your meditation practice. Location: 4265 N Camino Gacela, Tucson, Arizona
Meditation Group Class | April 21, 2018
Anti-Anxiety Meditation
Saturday, April 21, 8:30-10am
$40 early bird pricing ($45 after April 10)
Perfect Health Retreat - Sept 29 - Oct 1, 2017
3-day weekend retreat offered in Tucson, AZ.
The Ayurvedic Lifestyle program teaches you to bring balance and healing into your life. As your  Perfect Health Instructor and Ayurvedic consultant, I'll guide you through a powerful regimen of practices designed to balance the body/ mind, enhance nutrition, reduce emotional turbulence, and re-awaken the senses.
Registration in the September 2017 retreat includes:
daily meditation and yoga, heart-healthy lunches Saturday and Sunday, Ayurvedic nutrition course, and quiet time for reflection.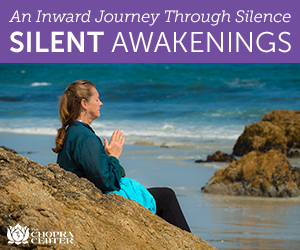 The Chopra Center for Wellbeing Events
Mention my name, Geneviève Nedder, when you register for all Chopra Center events and programs  for the best possible rates and up to 20% off most programs. Contact  program consultant Gabrielle Forleo at 760-494-1696 or by email for information.